"The family is one of God's greatest fortresses against the evils of our day. Help keep your family strong and close and worthy of our Father in Heaven's blessings."
The Church of
Jesus Christ
of Latter-day Saints views the family as the most important organization in time and all eternity. The Church teaches that everything should center in and around the family. It stresses that the preservation of family life in time and eternity takes precedence above all other interests.
Marriage, the home, and family are more than mere social institutions. They are divine, not man-made. God ordained marriage from the very beginning. The scriptures tell us: "Adam began to till the earth … as I the Lord had commanded him. And Eve, also, his wife, did labor with him. … They began to multiply and to replenish the earth. … And Adam and Eve, his wife, called upon the name of the Lord. … And Adam and Eve blessed the name of God, and they made all things known unto their sons and their daughters. … And Adam and Eve, his wife, ceased not to call upon God." (
Moses 5:1–2, 4, 12, 16
.)
The secret of a happy marriage is to serve God and each other. The goal of marriage is unity and oneness, as well as self-development. Paradoxically, the more we serve one another, the greater is our spiritual and emotional growth.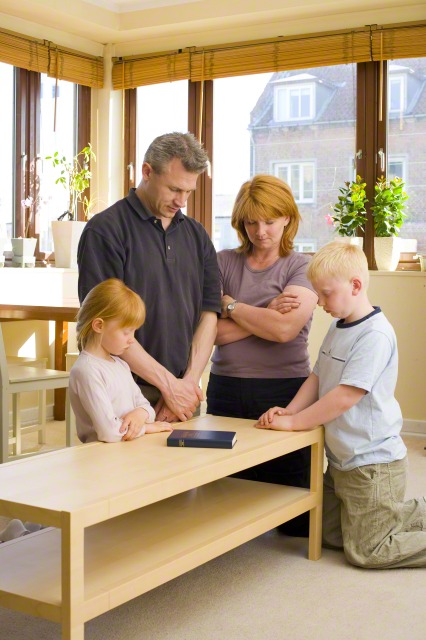 The family is one of God's greatest fortresses against the evils of our day. Help keep your family strong and close and worthy of our Father in Heaven's blessings. As you do, you will receive faith and strength which will bless your lives forever
Setting your home in order is keeping the commandments of God. This brings harmony and love. … It is daily family prayer. It is teaching your family to understand the gospel of Jesus Christ. It is each family member keeping the commandments of God. It is … being worthy to receive a temple recommend, all family members receiving the ordinances of exaltation, and your family being sealed together for eternity. It is being free from excessive debt, with family members paying honest tithes and offerings.
Home and family. What sweet memories surge up in our breasts at the mere mention of these cherished words! May I wish for you prayerfully, and with all the fervor of my soul, that you may know the unspeakable joy and satisfaction of honorable parenthood. You will miss one of the deepest joys of this life and eternity if you wilfully avoid the responsibilities of parenthood and home-building. As revealed through the Prophet Joseph Smith, the glorious concept of home and the enduring family relationship lies at the very basis of our happiness here and hereafter.
Excerpts taken from Teachings of Presidents of the Church: Ezra Taft Benson, Chapter 14.